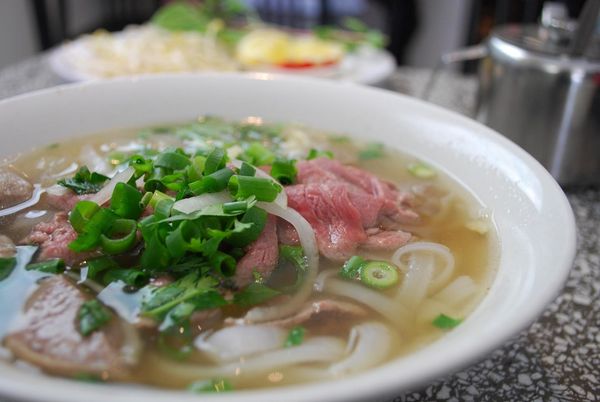 First of two posts about an underused beef cut, the sirloin.  
Pho Bo is a traditional Vietnamese soup, where hot broth is poured over thinly sliced raw beef, accompanied by rice noodles and a ton of fresh herbs.  This recipe, from NYTimes Mark Bittman, gives you the flavor of a complex broth in just a few minutes.  If you haven't tried Pho, or don't want to go downtown to get the good stuff, you have to try this recipe.
Notes: If using store bought beef stock, make sure to taste for salt after adding fish sauce. The amount of rice noodles varies depending on how much broth/noodles you prefer (I like more broth, so I use 1/4 pound). 
Ingredients:
1/4 - 1/2 pound thin rice noodles (labeled "vermicelli" or "rice sticks") 
8 cups beef stock 
4 star anise 
1 cinnamon stick 
1 1-inch chunk peeled fresh ginger 
1 onion, quartered (don't bother to peel) 
4 cloves 
1 pound boneless sirloin, cut into 16 thin slices 
1 tablespoons fish sauce (nam pla or nuoc mam) or to taste
Freshly ground black pepper to taste 
Salt to taste 
2 limes, cut into wedges 
8 green onions, minced 
Fresh chillis, minced (optional)
Fresh chopped herbs (basil, cilantro and mint)
Method:
Soak rice noodles in hot water to cover. 
Combine stock, star anise, cinnamon, ginger, onion and cloves in saucepan; turn heat to high. When mixture boils, turn heat to low, and cover. Let cook, undisturbed, for 20 minutes to 1 hour, depending on how much time you have (the longer the cooking, the deeper the flavor). Strain, and return to saucepan; turn heat to medium. 
Bring pot of water to boil. Drain noodles, add them to pot, and boil for 30 seconds; drain well. Divide noodles among bowls. 
Turn heat under soup to medium, and add beef; stir once, and then turn off heat. Add fish sauce or soy sauce and plenty of pepper to the soup. Taste, and add salt or more seasoning, if necessary.  The longer it sits the more the beef cooks.  If you want the beef rare (suggested), go right to serving it.  Otherwise let it sit in the hot broth for a few minutes. 
Top noodles in each bowl with broth and beef. Serve, passing lime wedges, scallions, chilies and herbs at the table, so that everyone can add them to taste.
Serves 4.
Image credit: "Beef Pho - Pho Dzung AUD8 - close" by avlxyz, licensed under CC BY-SA 2.0